Ahh, Wales. A land of poets, singers and rugby players (Dylan Thomas, Tom Jones, Gareth Thomas… all the other Thomases), the wild and rare beauty of this green corner of the British Isles will make your heart sing!
Gracing our guidebooks with Sound of Music mountaintops, white beaches and castle-covered countryside, we've been in a fully-committed/restraining order-style love affair with Snowdonia National Park for years. (WHY CAN'T YOU JUST SEE HOW PERFECT WE'D BE TOGETHER?).
Anyway… with mountain waves, subterranean trampolines and 100mph ziplines, Snowdonia is also the adventure capital of the UK. Which our STA Travel Beat Makers found out whilst being unceremoniously suspended from a great height above a disused mine on their way to Festival No.6 last year.
And even then, the harnesses and hairnets couldn't dampen their ardour for Wales.
Parks
From summits to surf, Snowdonia's scenery is certifiably cinematic, with the kind of drama you'd usually associate with New Zealand, Canada or Tasmania. Home to nine mountain ranges, glaciers, lakes, beaches and the highest peak in England and Wales; Wales' oldest national park is a haven for hikers, surfers and country pub dwellers. Plus, open-mouthed individuals walking around wondering why on earth they've never been here before. WE DON'T KNOW EITHER, INSANITY?
… and Recreation
Snowdonia is a story of adventurous landscapes and extraordinary natural beauty, but also one of regeneration. Of repurposing these once industrious mines and quarries to create an outdoor adrenalin scene that is not only the best in Britain, but that has helped reinvigorate the local communities.
Beat Makers vs. Surf Snowdonia

Graced with the geological holy grail of mountains and beaches, there's nothing notionally crazy about surfing in Snowdonia – it has a coastline after all. But surfing in the foothills of mountains, miles from the ocean? Confusing, we get it. But by the wrath of Neptune, it's real! We were there, we surfed it (stacked it), we loved it.
Built on the footprint of an old aluminum plant, closed in 2007 after serving the local workforce for 100 years, Surf Snowdonia has helped keep this landscape alive. Using renewable hydro-power from the mountains, this is the world's first commercial surf lake. Open since 2015, it's already a phenomenal success, attracting surfers from around the world from beginners to Red Bull pros. And us. (Not pros, but instead a group of writers, photographers and chickens).
#OMGB, surfing here was insane. Not only are you catching breaks in one of the most stunning settings in Britain, but Surf Snowdonia also answers that perennial traveller dilemma – peaks or waves? Both please.
Surf Report: In a 1-hour lesson, you'll typically get 20 waves. There's also a surf shop, surf academy, bar and surf village with glamping pods. There were also a lot of dogs, which was also excellent.
Beat Makers vs. Bounce Below

After being suitably humiliated by what we can only presume were a school group of seven-year old pro-surfers, next stop was Bounce Below. Once a Victorian slate mine and prosperous mining community, the underground caverns have been transformed into a subterranean playground – a cross between human Snakes and Ladders, and Fraggle Rock (retro reference, apply Google search).
The height of a cathedral and big enough to house 75 double decker buses, the backlit network of caves are hung with nets, ladders and slides. The aim is to jump around like a hyped-up child, and try not to collapse wheezing at the feet of an actual child.
Let's bounce: The kind of breakout that every adult needs, a 1-hour session will cost £25 and includes helmets. And dinner lady hairnets.
Beat Makers vs. Titan Zipline

On the same site as Bounce Below, as well as nine other thrill-seeking adventures including treetop nets and a forest plummet, is Titan – the largest zip zone in Europe. Capable of speeds of up to 100mph, this is one of the longest and quickest ziplines in the world. However, it's the scenery that's the real rush, with 360° views across mountains, moorlands and the ocean on a clear day. Oh, and the Top Gun-esq red flying suits, they were also pretty spectacular.
Go Titans: The course is made up of three ziplines, with a short walk between each. The cost is £50 per person, or £180 for four.
… And finally, a beer and time for Bed(gellert)


After a day of challenges, tired limbs and helmet hair, there was really only one thing left to do – drink. All slate cottages, wooden beamed pubs, stone bridges and hanging mountain mists, we headed for Beddgelert – possibly the cutest village in Wales the world. Where we promptly took over a corner in the Tanronnen Inn and hoovered up hearty stews and pints of Unicorn beer. We always said there was something magical about Snowdonia.
#OMGB indeed.
p.s. Gen-Z. This is Fraggle Rock.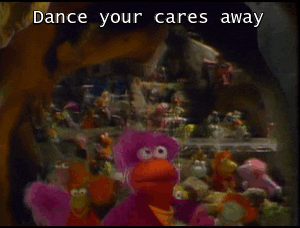 Ready to bounce and climb your way around Wales? Get yourself to Wales and find your own magic